Export Talks – Focus Sanzioni Economiche
Map Unavailable
Date/Time
Date(s) - 09/07/2020
12:00 pm
Categories No Categories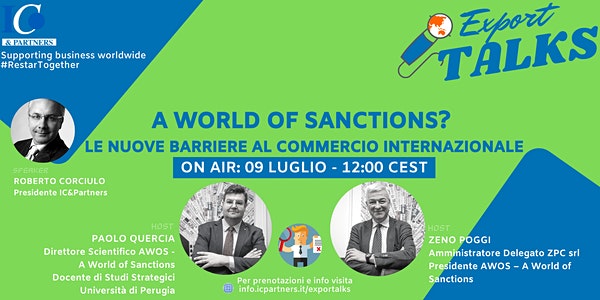 Export Talks è un ciclo di incontri virtuali gratuiti di 30 min su piattaforma zoom dove si affronteranno tematiche riguardanti: 🚨la situazione Paese 🎯le strategie più adeguate 💡le opportunità attuali 💰le forme di finanziamento.
Il 09 Luglio parte la LIVE su piattaforma ZOOM A World of Sanctions? Le nuove barriere al commercio internazionale.
Al talk interverrà PAOLO QUERCIA Direttore Scientifico AWOS – A World of Sanctions Docente di Studi Strategici Università di Perugia e ZENO POGGI Amministratore Delegato ZPC srl.
Il Talk è condotto da ROBERTO CORCIULO, Presidente di IC&Partners SpA.
La live è gratis e ci sarà la possibilità di prenotare possibili B2B virtuali o fare domande specifiche.
Sei interessato ad altri Paesi esteri?
SAVE THE DATE
14/07 Focus Brasile
22/07 Focus Singapore.
Per tutte le altre date visita:
💻https://info.icpartners.it/exportalks
IC&Partners è la più grande piattaforma italiana di Entry Strategy e di supporto agli Investimenti Diretti Esteri delle imprese italiane.
Da 25 anni è a fianco delle PMI per supportarle nel percorso di crescita sui mercati esteri. E' specializzata in consulenza per l'internazionalizzazione d'impresa in ambito fiscale, legale, contabile, amministrativo, finanziario e di gestione delle risorse umane all'estero oltre che di servizi di entry strategy e di export management. Il Gruppo nasce a fine degli anni 90 con focus di specializzazione sui Paesi dell'Est Europa.
Negli anni ha esteso la sua operatività nel resto mondo e oggi conta 27 uffici diretti nei principali mercati globali: Stati Uniti, Russia, Cina, India, Polonia, Bosnia – Erzegovina, Hong Kong, Bulgaria, Filippine, Messico, Romania, Vietnam, Serbia, Svizzera, Ucraina, Ungheria.
IC&Partners ha partnership qualificate in: Albania, Australia, Austria, Benin, Bielorussia, Brasile, Croazia, Dubai, Ecuador, Egitto, Germania, Kazakhstan, Kosovo, Malesia, Malta, Marocco, Moldavia, Regno Unito, Repubblica Ceca, Singapore, Slovacchia, Slovenia, Spagna, Sud Africa, Thailandia, Tunisia, Turchia.
#exportalks #restartogether #export #internazionalizzazione #webinargratuito